The tanzanian government is to work with the private sector to construct enough irrigation set-ups, dams and drainage systems to achieve the envisaged target of 1 million hectares of land under irrigation by 2025, up from the current 461,326 hectares.
According to Lake Zone irrigation engineer Ebenezer Kombe, the idea is aimed at «increasing crop yields per acre, and hence move away from rain-fed agriculture.»
Speaking during the ongoing NaneNane exhibition at the Nyakabindi grounds in Bariadi, Shinyanga Region, Kombe cited irrigation as the country's only hope to improve food security.
«If the best agricultural practices are followed, one hectare of land under irrigation can trigger a fourfold increase in food production, compared to rain-fed agriculture», he asserted.
He said to achieve this goal, the plan is to build more irrigation schemes, dams and drainage systems in drought-prone areas through government-private sector collaboration.
Farmers will be required to contribute through their regional irrigation associations in the construction of drainage systems that will go directly to the farms, and will also be responsible for taking care of the drainages, Kombe said.
«Farmers are also urged to cultivate their land at least two times a year using modern agricultural technologies», he added.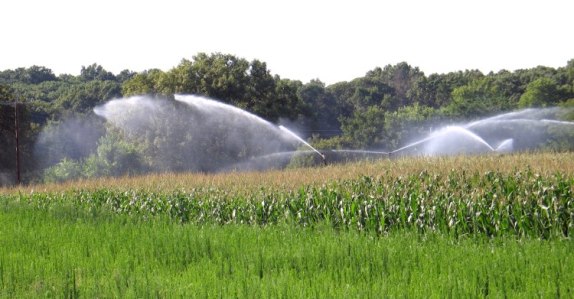 Kombe, who was addressing visitors to the National Irrigation Commission (NIC) pavilion at the exhibition, noted that some farmers have started to apply methods like system of rice intensification (SRI) in cultivation of paddy.
He said the government is working to speed up incomplete irrigation scheme projects in order to enable small-scale farmers to produce enough food for personal consumption and sale.
Rainwater harvesting will also be enhanced through the construction of new dams, he added.
National Irrigation Commission agricultural officer Petro Sarwat urged farmers to adhere to professional expert advice when practicing irrigation cultivation.
«We have had a number of irrigation schemes in the past, but most of them are not functioning today due to improper handling over the years. Most schemes lasted for just a few years before folding up,» Sarwat pointed out.
The 461,000 hectares of land under irrigation constitutes only fiveper cent of Tanzania's estimated total cultivated land of 29.4 million hectares. According to experts, one explanation for this is that surprisingly little attention has been paid to irrigation since the revival of interest in agricultural development in sub-Saharan Africa, signalled by the Maputo declaration of 2003.
Public investment in much Africa has focused instead on improving seeds and encouraging farmers to use more fertilisers. Reasons for this are not hard to find: many irrigation schemes developed in the 1960s and 1970s ran over budget and over time, encountered all manner of technical and social problems, and produced meagre returns.
Source: www.ippmedia.com